HVAC Repair Services
Cool Tech Heating & Air Conditioning specializes in heating & cooling repair services in the Charlotte, NC areas. If your HVAC system isn't heating or cooling your home efficiently, we can inspect it, locate any issues and repair them on the spot. We'll make sure your heating system is capable of keeping your home at a comfortable temperature throughout the winter months.
You can trust us to repair your:
Furnace
Heat pump
Humidifier
A/C unit
Thermostat
Don't wait around for unresponsive HVAC repair companies. We're available to repair your faulty system 24/7. We are your local HVAC company in Mount Holly, NC serving Charlotte, NC and surrounding areas. Call today to ask about our affordable HVAC maintenance program!!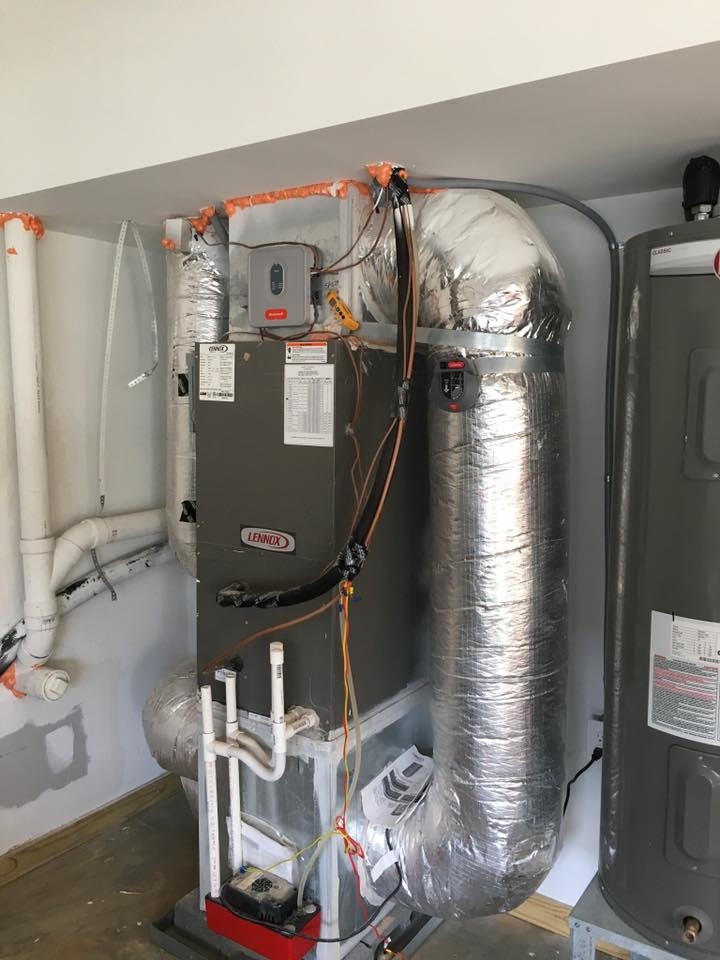 Turn to Cool Tech Heating & Air Conditioning for cooling and heating repair services in Mount Holly, Belmont, Cornelius, Charlotte NC and the surrounding areas.
Is your HVAC system keeping your family as comfortable as possible?
Is it offering reliable and efficient heating and cooling for your home?
In the Charlotte area, with our changing seasons, you need a reliable HVAC system and a team you can trust to keep your system up and running.
For homeowners and business owners in Charlotte, Cornelius, Mount Holly, Waxhaw, and the surrounding Charlotte areas, Cool Tech Heating & Air Conditioning is here to serve, with a team of trained HVAC technicians.
When you need help with your home comfort systems, the Cool Tech team has a full list of HVAC repair services to assist you.
From minor problems to complete system breakdowns, you can trust our team to quickly get to the root of the problem and provide an affordable, effective repair solution. We've been helping the Charlotte area with HVAC problems for years and are ready to provide experienced and knowledgeable service.
At Cool Tech, we understand that HVAC problems don't keep "normal business hours," and that's why we are available any time of the year, day or night.
Whenever an HVAC problem strikes, you can call for our expert help. Schedule emergency HVAC repair in Charlotte, Mount Holly, Cornelius, or the surrounding areas today by calling (704) 820-6480 now!
How to Know Your HVAC System Needs Repair?
Sometimes, calling for HVAC repair at the first sign of a problem can help you save time, money, and frustration by avoiding more serious problems or emergency repair needs.
Some of the signs you should watch for that may indicate a problem include:
Uneven heating or cooling in your home
Unexpected or unusually loud sounds
Leaks or moisture around the system
Air conditioning system blowing hot air
Heating system blowing cold air
Unusual smells from the system
These signs and symptoms should not be ignored. If you do, you could end up with an HVAC emergency. Save yourself the frustration of an emergency or a full system breakdown by calling Cool Tech at the first sign of problems.
HVAC Maintenance Agreements
It's never good when HVAC units break down—not only is it inconvenient, but it can sometimes be expensive to replace! To reduce the likelihood of an unexpected HVAC problem, Cool Tech offers a maintenance agreement plan so you can ensure your system gets the attention it needs to perform well all year long. Preventative service is designed to uncover minor problems before they degrade system performance or cause a catastrophic failure. When you sign up for our Priority Maintenance program, you can ensure you are getting premium service and flat rate pricing.
As a member, you can enjoy:
Pre-scheduled heating and cooling tune-ups
Reduced service call fee
2 year repair warranty
Waived holiday and after hour fees
Priority scheduling And more!
When you sign up for a maintenance service agreement, the hassle of scheduling service is behind you. We will call you to ensure we are inspecting your unit before the summer months begin so you have an HVAC system that performs at peak efficiency all year long.
Basic Program Benefits
24-Hour-a-Day Availability
Flat-Rate Pricing Structure
Waived Holiday/After-Hours Fees
Priority Service Scheduling
Payment Options Tailored to Your Budget
Customized to Your Home and Your Specific Needs
Peace of Mind
A furnace contains a variety of mechanical parts that are subject to extreme weather-related stress over time. When your heating system does malfunction, it is important to contact an HVAC contractor who has extensive experience in every aspect of heating repair and maintenance.
When you need to schedule heating repairs, look no further than Cool Tech Heating & Air Conditioning. For more than 25 years, we have been providing Charlotte, Cornelius, Mount Holly, Waxhaw, Mooresville, Concord, and surrounding areas with dependable HVAC repair services – including emergency HVAC service.
Contact us online or give us a call at (704) 820-6480 to schedule your heating or cooling repair!
24-Hour Emergency HVAC Repair Services
Let's face it – sometimes you need an HVAC technician, and fast! Whether it's the coldest night of the year or you have guests over and your home is uncomfortable, our 24/7 emergency heating repair service can ensure your Charlotte NC home gets back to a comfortable temperature in no time.
Heating Repair Service
We understand the aggravation associated with a furnace breakdown and an unresponsive heating contractor. Our friendly comfort specialists work hard to address every service inquiry and schedule appointments in a timely manner. The NATE-certified technicians at Cool Tech will accurately locate the source of the malfunction and quickly replace faulty components. The furnace repair is not complete until we verify the system is operating to the manufacturer's original specifications. After the job is finished, our invoice amount will never exceed the final estimate.
Furnace failures are usually caused by obstructions in the ductwork, clogged filters, broken relays, or faulty ignition systems. Mechanical problems can include worn bearings, a burned-out motor, a cracked heat exchanger, or impaired burners. It is essential that the service provider is well-qualified, since some furnace components can compromise the health and safety of the home's occupants. Our HVAC contractors can work on gas and electric furnaces.
Signs You Need Furnace Repairs
Though you may feel like your furnace is out of sight, out of mind, there are some signs your furnace will give you that it needs repairs before quitting completely. Some of those signs include:
Increased energy bills
Strange noises
Odd odors
Weak airflow
Frequent cycling on and off
If you notice any of these signs, contact the experts at Cool Tech to resolve the issue and get you back to the warmth of your home!
Why Choose Cool Tech Heating & Air Conditioning as Your HVAC Company?
Cool Tech is a full HVAC company that serves homes throughout Cornelius, Davidson, Mooresville, Huntersville, and Lake Norman and surrounding areas. We believe that our success is based on three simple principles:
Always answer the phone – Day or night, 365 days a year, your call will always be answered by a Cool Tech employee.
We do what we say we are going to do – Our professional, prompt technicians will arrive when we promise. With our flat-rate pricing, you always know the price before we do the work. No hidden charges, no extra costs.
We surround ourselves with the best people – We hire professional employees that are willing to help our customers no matter what. All of our technicians are trained and certified so you can trust you are getting the most qualified heating repair in the Cornelius area. Call us to schedule home heating service if you live in or near Cornelius, Charlotte, Mount Holly, or Waxhaw!
If you're looking for reliable heat pump or furnace repair service in the Charlotte area, look no further than Cool Tech. Our expert technicians can ensure your heating unit is repaired on time and on your budget. We offer HVAC services for all four seasons, including A/C repair!
Call us at (704) 820-6480 to schedule heating or cooling repair services today! We are based in Mount Holly, NC and service the surrounding areas of Charlotte, Waxhaw, Concord, and nearby.